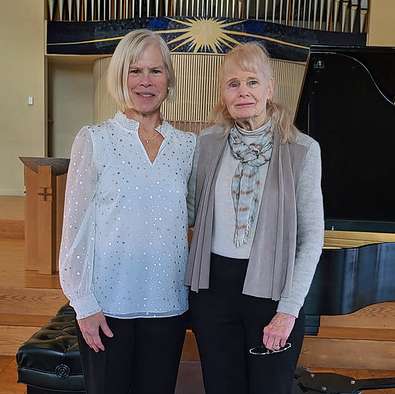 12/8/2022: Music by Members
On Thursday, December 8, 2022, starting at 10 a.m. in the Sanctuary at Westminster
Presbyterian Church, seven members of the Musical Club of Hartford will perform a program of classical music including works by Mozart (1756-1791) and four French composers from the 19th-20th centuries: Massenet (1842-1912), Fauré (1845-1924), Chaminade (1857 -1944), and Poulenc (1899-1963):

Année passée, Book 3: Soirs d'hiver (winter evenings) for piano, four hands by Jules Massenet (Performers: Michelle Duffy, Linda MacGougan)

Sérénade, Op. 29, and Pierrette. Air de ballet, Op. 41 for solo piano by Cécile Chaminade (Performer: Michelle Duffy)

Trio in G Major, K. 496, movement 1 (Allegro) for violin, cello, and piano by W.A. Mozart (Performers: Lisa Kugelman, Fran Bard, Linda MacGougan)

Sonata for Clarinet and Piano by Francis Poulenc (Performers: Rob Breen, Annette Shapiro)

Barcarolle No. 2 in G Major, Opus 41, for solo piano by Gabriel Fauré (Performer:
Andrew King)

A Holiday Reception will follow in the Hallway between the Sanctuary and Fellowship Hall.

Admission to this concert is free to Musical Club members and students, $5 for the general public. Masks are optional; proof of COVID vaccination is not required. Ample free parking and wheelchair access available.