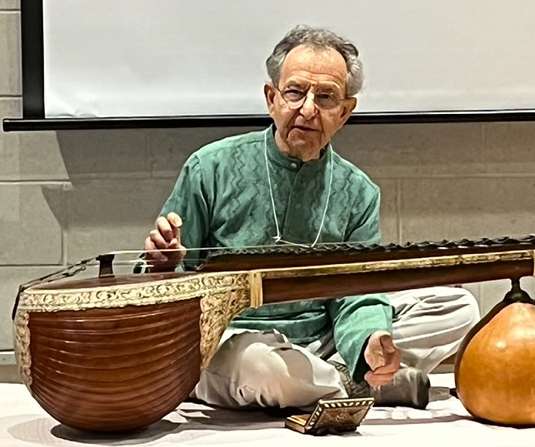 11/30/2023: Musical Exploration - South Indian Music, Part 2
Last season, David Schonfeld presented an Introduction to the Classical Music of South India. David didn't even get through the "teaser" videos he had assembled by way of overview, but these elicited an eager and interested response from the large audience. Many people requested a return engagement. In this follow-up talk, David will go into more detail about melodic organization (raga), metric cycles (tala), compositional forms, improvisational structures, performance conventions, instrumental and vocal training, history, esthetics, and demographics. He will illustrate his points profusely with selected YouTube clips and will also demonstrate on the vina.

Note that today's event will take place in the church's Fellowship Hall.
​

You may wish to read David's Introduction to Part 1, from September 29, 2022. At that session he showed excerpts from the following videos, to evoke reactions and questions:

​Saroja dala/സരോജ ദള /sopanam movie song/Yesudas/Jayaraj/ - YouTube
​Nikhila paapa nivaranaika-Chembai, Chowdiah and Palakkad Mani in Vaani(1943) - YouTube
​Svaralankara - 9th Annual Music Festival 2018 - Carnatic Vocal duet byRanjani & Gayathri - YouTube
​T Brinda & Vegavahini Vijayaraghavan at University of Washington, Seattle, 1969 - YouTube
​Mysuru Asthana Sangeetothsava - Karnatic Flute by Heramba & Hemantha - YouTube
​Mallari - Nagaswaram Thirumeignanam T P N Ramanathan Pandamangalam G Yuvaraj - YouTube